It can be difficult for many families to discuss moving loved ones into senior communities in Southeast Denver. While it might seem challenging at first, the truth is that in most situations, your elderly mother, father, or family member is likely to live a much better and healthier life in a retirement home. But starting the conversation can still be challenging. That is why we are here to help.
The first step to discussing senior living communities is to have empathy and make sure you are listening. You want to make sure your loved one knows that you understand that any concerns they may have are valid. It is also vital for them to realize that it is easier for you to see from an outside perspective that they require assistance in ways that only a retirement home or independent living community can provide. To make this conversation easier for you and your loved one, we encourage you to take the following steps:
Educate Yourself – Have a clear understanding of the different types of care, such as assisted living, independent living, or memory care. This helps you figure out the best solution for your loved one and help you educate them about the differences, so they understand that not all senior communities are the same.
Ask for Help – Don't be afraid to ask fellow family members and friends for their help when talking to your loved one about moving to a senior living community. By giving them some additional perspectives, they might see that this isn't just one person's opinion.
Take Your Time – Finally, it is essential to remember that the senior living conversation isn't a one-and-done discussion. This is something that could take months to years to decide on—especially when the first signs appear that your loved one might be struggling on their own. You shouldn't be afraid to bring up the discussion before there is a need to sense their willingness to talk about it. As the saying goes, patience is a virtue.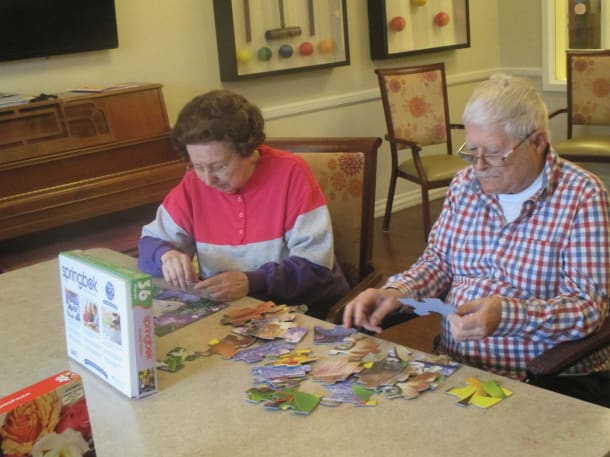 Alzheimer's care in Southeast Denver helps when you have a loved one experiencing memory loss to a degree where they are a risk to themselves and others. But when is it time to consider memory care at an assisted living facility? The most important thing to know is that this isn't a decision you can make on your own. This is a decision that requires the assistance of a doctor.
If your loved one starts to have frequent memory lapses, it is time to consult with their primary physician. The doctor will then perform a thorough physical examination and assess personal risk factors, evaluate any symptoms, eliminate reversible causes of memory loss, and help you obtain appropriate care. The good news is that an early diagnosis can treat reversible causes of memory loss. It can also significantly improve the quality of life for individuals with Alzheimer's or other types of dementia.
What sort of signs are there that your loved one might need to visit a specialist? If you notice your loved one having difficulty with any of the following items, it is time to consider screening for dementia:
Remembering New Things
Dealing with Numbers & Logical Thinking
Performing Familiar Activities
Understanding the Passage of Time—Change of Months/Seasons
Changes in Vision or Perception
Carrying on a Conversation
Losing Things
Poor Decision Making
Socializing & Hobbies
Drastic Changes in Personality or Mood